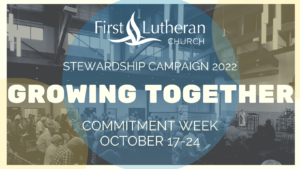 Stewardship Campaign 2022
Our stewardship theme this year is "Growing Together", which coincides with our sermon series and fall strategic plan of Growing Together in Christ, Congregation, and Community. Stewardship packets were mailed out on October 6th – if you haven't received a packet, you can pick one up at the welcome center or use the online resources below. We ask that you prayerfully consider your plans for giving and serving and return them in one of the following ways during commitment week, October 17-24:
-Bring your completed plans for giving & serving cards to worship.
-Fill out your plan for giving online by clicking HERE.
-Fill out your plan for serving online by clicking HERE.
-Mail your cards to church, 1655 18th Ave E, Alexandria, MN 56308.
-Drop it off anytime at the church office.