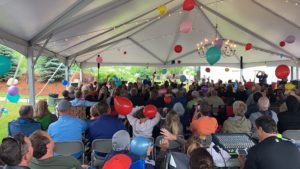 Please Join Us for Worship
At First Lutheran Church, we are committed to engaging in worship that is joy-filled, authentic, and inspiring. We believe that worship is essential to our life of faith. It is our hope and prayer that you encounter God's presence as you worship with us. Below are our current worship offerings:
Sundays
SUNDAYS | FACEBOOK LIVE | 8:30 AM
SUNDAYS | KXRA 100.3 FM & 1490 AM | 10:00 AM
Our worship on Sunday mornings features a variety of musical styles ranging from traditional hymns to contemporary offerings. Each week we hope to inspire you through music, prayer and an encouraging message. Communion is served virtually on the 1st and 3rd Sundays of the month. All Sunday worship services can be watched daily on Public Access RV (channel 181, on Spectrum Cable TV) at 10:45am.
Wednesdays
WEDNESDAYS | FACEBOOK LIVE | CHURCH PARKING LOT/LAWN
|
6:15PM
Our Wednesday worships are more compact theme-based celebrations that feature contemporary styles of worship music. Each week we dive into a specific theme in our faith through music, Word, and other unique worship experiences. We hope you leave these worships refreshed and renewed by music and Word to live your faith vibrantly! In the event of inclement weather, online worship only will happen and outdoor worship will be canceled. An announcement on our Facebook page will be made by 4:00pm on Wednesdays. All are welcome to join us for Wednesday Worship on the church lawn (bring your lawn chair and mask!) in the church parking lot from your car or online.
All worship services are available immediately following their completion on our website at www.firstlutheranalexandria.com.