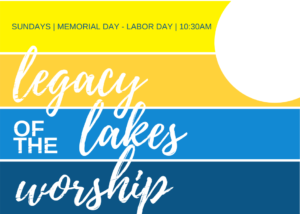 LEGACY OF THE LAKES WORSHIP
SUNDAYS
| 10:30am | MEMORIAL DAY – LABOR DAY
All are welcome to join us for this exciting summer worship opportunity! If you would like to sponsor a Sunday at the Legacy $250, call the church office.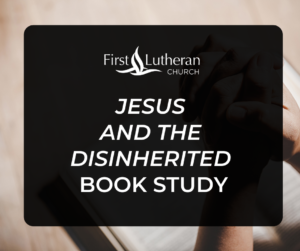 JESUS AND THE DISINHERITED BOOK STUDY
MONDAYS BEGINNING 4/26
| 10:00am | IN PERSON (14 MAX) | BELL TOWER
THURSDAYS BEGINNING 4/29 | 6:30PM | VIRTUAL | CLICK HERE TO JOIN
Led by Sharon Bridges, this four-week study will focus on the book, Jesus and the Disinherited, It is a brilliant and compassionate look at God's work in our lives. As we struggle today with issues of poverty, racism, and spiritual disengagement, Howard Thurman's discerning reading of the message of renewal through self-love as exemplified in the life of Jesus resonates powerfully once again. It is an important and influential book whose message helped shape the civil rights movement and changed our nation's history forever. Thurman's work reaches past anger and distrust toward a vision of unity.

Sign deadline April 23 at 1:00pm

. Book is available on Amazon and not necessary to have by first gathering. Register with Karen in the church office 320.762.2196.