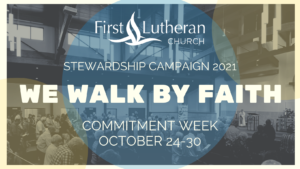 Stewardship Campaign 2021
Our stewardship theme this year is We Walk by Faith which will be our theme for 2022 as we celebrate our congregation's 150th anniversary. We ask that you prayerfully consider your plan for giving and return it in one of the following ways during commitment week, October 24-30:
-Bring your completed plan for giving card to worship.
-Fill out your plan for giving online by clicking HERE.
-Mail your card to church, 1655 18th Ave E, Alexandria, MN 56308.
-Drop it off anytime at the church office.