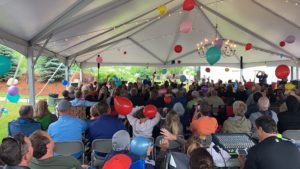 Please Join Us for Worship
Saturdays
Our Saturday evening worship has a relaxed feel. We follow the same general order of service as on Sunday except that the musical accompaniment is usually led by piano and one song leader. Communion is served on the 2nd, 4th, and 5th (if applicable) Saturdays of the month.
Sundays
Our Sunday morning traditional worship service includes classic hymns and songs set within a more traditional order of worship. Randy Morken, Director of Music and Liturgy, provides leadership. Our Chancel Choir, Bell Choir, Kids Choir, and other musical ensembles add additional flavor and depth to the service on a rotating basis. Holy Communion is served the 1st and 3rd Sundays of each month.
Our
Sunday morning Celebration worship service includes liturgical elements yet offers present-day music of the faith from inspiring composers alongside fresh renditions of classic hymns and songs. A worship team leads the music, and other music ensembles provide special music offerings. Holy Communion is served the 1st and 3rd Sundays of each month and is served every week throughout summer (Memorial Day through Labor Day) at the Legacy of the Lakes Museum Gardens.
Wednesdays
During our Wednesday night worship, we strive to be a retreat in your busy week with contemporary worship for all ages. Worship follows a creative liturgical format and is led by a worship team of youth and adults. The feel of this worship service invites you into the experience of worshiping as a community of seekers and believers alike. Come as you are.
Holy Communion is served the Wednesdays that follow the 1st and 3rd Sundays of each month. Join us 4:45-6:00pm weekly for a meal prior to worship.
What to Expect
Families with young children are invited to attend any of First's worship services. We embrace wiggles, giggles, and cries everywhere at First Lutheran and hope you and your children will join us! A typical worship service includes a Bible-based message that connects faith and life, worship music, and offering. Weekend worship is typically 50-60 minutes in length. Wednesday worship is 45 minutes. You are welcome here!